As a result of the recent webinar "Everything I Know About Stereochemistry I Learned From Cats", we raised enough money to sponsor a cat from Safe Haven For Cats, a no-kill animal shelter in Raleigh, North Carolina.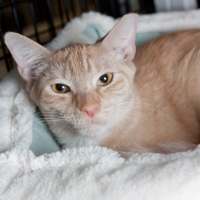 I got this message in the mail from the cat we sponsored, "Newman", which kind of seems like he filled out a Mad Lib:
Hello from Newman

I've got the heart of a mountain-climber and the mind of an entrepreneur. You're a timeless soul who thinks the most fun thing that two people can have together is to build things from the ground up. How about it: Want to work and play together? Want to share the spiritual joys of powerwalking, powershopping and powermongering? Let's gaze at the bottom line by day. Please: no dice-rollers, white liars, or compulsive jaywalkers. Must be willing to lose at chess.

Thank you for sponsoring me. Guess what?!! I'm in a foster home right now so that I will be ready for my forever home when I get back.

Love, Newman
Nothing in there about being staggered or eclipsed, or even gauche, but clearly Newman has many diverse interests. Thanks to all who participated – the fees go to paying for Newman's upkeep until he finds a sponsor home (not me though, I'm allergic). 
Happy Thanksgiving weekend!
Related Posts: