I thought pigs would fly before I ever saw an organic chemistry mechanism in the New York Times, but lo and behold, what is this?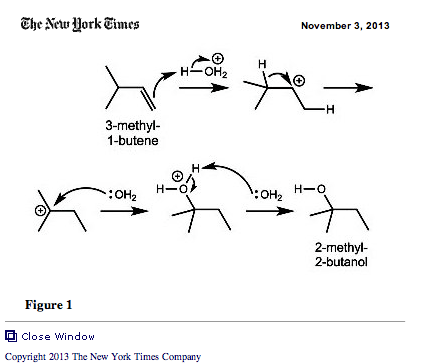 The article, titled "How To Get An A- In Organic Chemistry",  by science writer turned pre-med Barbara Moran, vividly describes her struggle (and eventual success) in learning organic chemistry. My favourite (two) paragraphs:
My study partners and I called orgo the "bad boyfriend," because it stole so much time from our personal lives. As in, "I just blew off Thanksgiving dinner to hang out with the bad boyfriend." Once, my 3-year-old clung to my leg as I tried to leave for class. "Mama, don't go!" he cried. "No more chemistry!" Sorry, little buddy. Bad boyfriend's calling.

---

You can't memorize all the possible answers — you have to rely on intuition, generalizing from specific examples. This skill, far more than the details of every reaction, may actually be useful for medicine.
Ms. Moran's story will resonate with anyone who is taking the same journey, particularly if you are a post-baccalaureate. Well worth the read.
Thanks to @Chemjobber for the hat tip. And @sciencegeist for the last word: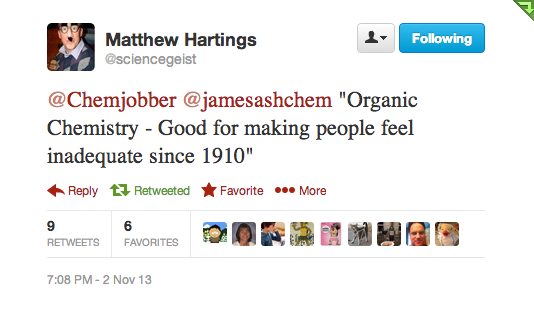 Related Posts: