Who are these two people?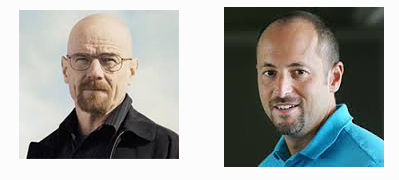 Everybody knows the figure on the left is actor Bryan Cranston, who plays the role of rogue chemist Walter White in the series "Breaking Bad". An estimated 8 million viewers will tune in to the season finale this Sunday to see how his story ends.
Most people don't know the figure on the right. But if Breaking Bad has made you even the slightest bit intrigued about organic chemistry, or made you wonder about the processes that lead chemists to take raw chemical materials and fashion them into complex bioactive substances, then it's worth a few minutes of your time to learn more about Phil Baran.
On Wednesday, Baran was awarded about $625,000 from the MacArthur Foundation for their fellowship program (often referred to as the "genius grant"), recognizing individuals who show "exceptional merit and promise for continued and enhanced creative work".
It's tough to describe the magnitude of Phil's accomplishments to a non-specialist audience, so I will describe it this way. If I met an organic chemist who had been out of the field for 10 years and wanted to learn about the most important new innovations in natural product synthesis over the past decade, I would tell him to start by reading Phil Baran's papers. Phil has accomplished in a decade what many organic chemists would be happy to achieve in several lifetimes – to the point where some jokingly tell him to slow down.
He is  36 years old.
With the grant money, Baran says he and his laboratory "plan on doing some pretty crazy things".
Sorry to disappoint those who will miss Breaking Bad, but that likely doesn't involve building a giant meth lab in the desert of New Mexico.
For more information about Phil's work, visit the Baran lab blog at Open Flask.
Related Posts: