Courtesy of Dave Blackburn, an organic chemistry instructor "who is giving an exam on this today", here is a mind map of all the different concepts covered in the discussion on SN1, SN2, E1, and E2 reactions.
What's interesting is that this mind map really boil the "SN1/SN2/E1/E2" decision  down to 3 options:
SN2 reaction
E2 reaction
Formation of a carbocation
If the carbocation is formed, of course, it can go down several different pathways (SN1, E1, possibly preceded by rearrangement).
There are five key categories covered here: substrate, nucleophile, solvent, temperature, and leaving group. There's no one place necessary to "start" although beginning with the "substrate" – i.e. " primary, secondary, or tertiary alkyl halide? " is always my first choice.
Thanks, Dave!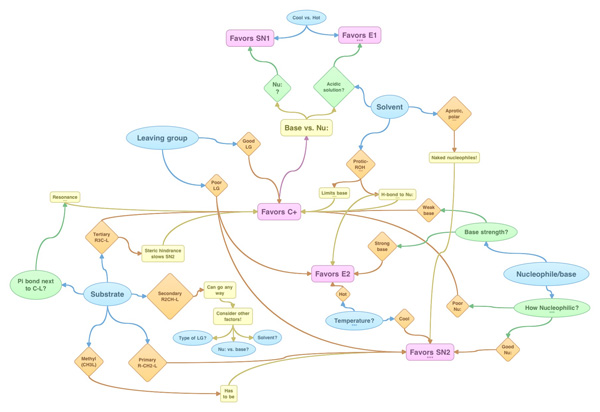 Related Posts: