99% of what I do at MOC is given away for free. But every once in awhile I try to produce paid products and services that serve a pressing need for students of organic chemistry that can't be found anywhere else. One example of this is the Reagent Guide. Today I'm excited to announce the release of another paid service – Daily Organic Chemistry Power Tips.
If you ask instructors and A students what some of the keys to success in organic chemistry are, they always say: don't fall behind, and study every day. 
Even then, when I asked some of my students what they'd do differently if they had to take the course over again, they say things like:
"I wish I'd spent an hour every day on the course – MINIMUM"
"I would have started earlier and just tried to get a head start – like reading things before coming to lecture"
"I should have probably stayed up to date with the material before each class; that way I would actually 100% understand lectures rather than not understanding 30% of the material and post-poning that understanding until 2 weeks before the exam."
One of my goals here at MOC has been to provide a service that helps students address this problem of studying organic chemistry every day.
So last semester, I developed a program – 12 weeks worth – that sends out daily emails that walk through the sequence of topics you encounter in a typical organic chemistry course, one day at a time. There's two versions – one for Org 1, and one for Org 2.
These power tips help you focus on learning one thing a day. Each email is designed to take 5-10 minutes to absorb, containing a few paragraphs of text and an image. For each version there's 84 emails (12 weeks worth), with a special focus on:
Common mistakes and how to avoid them
The key skills to develop so you can answer common problems
How to recognize and apply the key patterns of organic chemistry
By sending you one important email every day, these tips will help you focus keeping up with the material in your course, and help you avoid falling behind. 
These emails start at the beginning of each course and walk through to the end, covering these topics: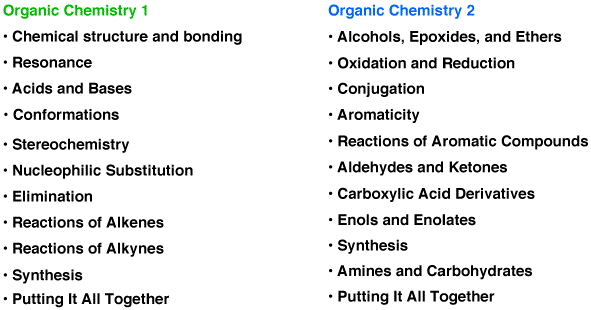 Some of these tips are based on posts I've written here on MOC. But most contain completely new material that hasn't been released yet.
Students who tried out the trial version had this to say:
"Succinct, accurate information – in one place without a bunch of mumbo jumbo! Perfect!!! 
"I love your daily organic chemistry insights. I had no idea that there was going to be so much useful information in each daily Org 2 Tip."
"The orgo tips are a tremendously encouraging tool for a subject that is daunting to many of us students."
"I found the emails very useful, because you have a talent to figure the issues were we most likely make mistakes…it seems to me that you spent a great deal of time and effort figuring out all the "dirty" parts of studying organic chemistry, parts were we get stuck sometimes, and waste a lot of time"
These emails represent all my best advice for succeeding in organic chemistry – all the shortcuts, summaries and tips I picked up from over 1500 hours teaching Org 1 and Org 2 to students from universities all over North America. To get someone to teach you this in person would probably take dozens of hours (and cost hundreds of dollars, or more). But each version is available for considerably less than that – $15/month!  – for 3 months worth of daily tips. By the end of each program, you'll have a treasure trove of organic chemistry study tips to work with.
Interested?
Related Posts: