What's my least favorite thing about organic chemistry? Nomenclature, by far. I  loathe doing nomenclature. Don't get me wrong, it's a means to an end, it's necessary. But what I loathe about it is how arbitrary it can be – particularly the non-IUPAC names. This makes it tough to teach.
What's the number one rule for naming hydrocarbons?  Find the longest carbon chain containing the functional group, and use that as the root. Seems really simple, right? Something that would be hard to confuse people with?
You would be wrong. This is from "Organic Chemistry: A Brief Course, Third Edition", by Atkins and Carey.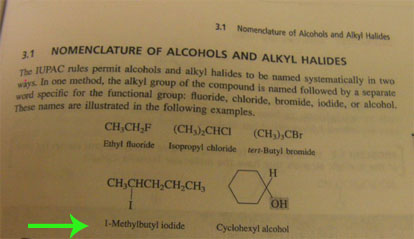 Am I missing something here?
What's the deal with naming this as 1-methyl butyl iodide? What's the longest carbon chain? Five.
There's a name for 1-methyl butyl, okay?  It's pentyl.
2-pentyl iodide, to be exact, if you're going to name it that way.
When I see things like this  – and do damage control with students who are having a hard enough time with the course material as it is, without dealing with these types of contradictions  – it makes me want to take out a few millilitres of Muscalure ® and swab it generously over the car of the editor responsible for this. Preferably on a nice windy day.
Sheesh.
Related Posts: